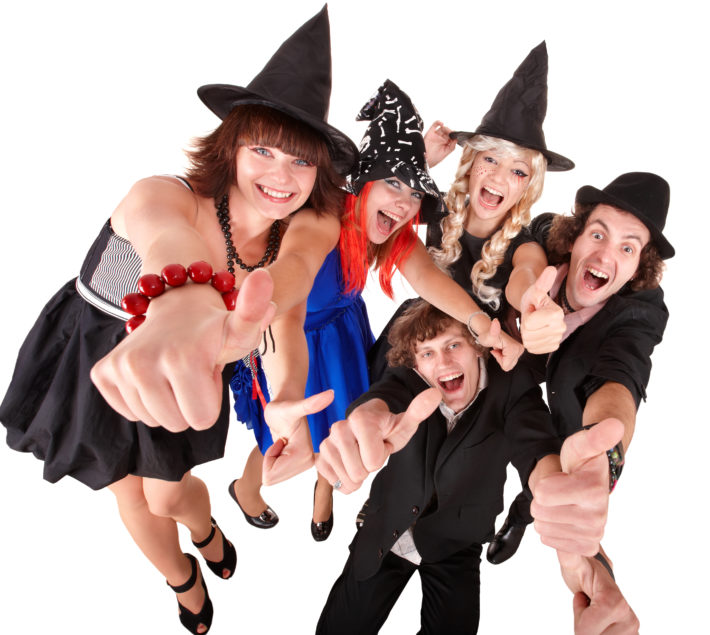 Hubble bubble, toil and trouble…. the season of witches, ghouls and vampires is finally here!
So why not celebrate in style with a devilishly good party at work.
What better way to prove you're the host with the most (or the best boss around) with a fun filled day of activities for a flagging workforce in need of a boost?
If you need ideas, we're here to help…
From games and food to decor and costumes – we've got it all!
First up, you'll need to let people know what's going on! And the best way to do this is with posters. (because sending an email around the office is a little boring).
This will work best if you're a whizz with Photoshop, but there's no harm in getting creative by drawing or painting something if great with graphic design. You could even get teammates to design their own.
Food –
There are all sorts of fantastic ways to 'creep up' normal food so they look and taste great. From Zombie Fingers, Maggoty Apples and Frozen Banana Ghosts to Monster Toes, Pumpkin Dips and Candy Apples the sky really is the limit!
(with thanks to the BBC Good Food Guide and Food.com)
Asda also have a fantastic range of food items as well as an abundance of sweets and treats too.
Costumes –
Costumes really do make the day! Allow work colleagues come to work in their spooky costumes and have a 'best dressed' competition with either a cash prize, or a half day holiday or pay packet bonus (if that's allowed).
Smiffys.com is a fantastic place to shop prior to the office party, as they cater for men, women and even plus size.
They also have an array of accessories available including; wigs, make up, capes and masks.
Decor –
You don't need to spend a fortune when decorating the office! Check out our handy, inexpensive tips below for some inspiration…
Black bags –  staple (or stick) black backs on to the walls of your office in order to create the perfect backdrop. This will create a night time effect.
Cobwebs – or 'cobwebs in a can', to be more precise. Spray this on the plastic bags you've just put up to create an old, decrepit look, then hang toy spiders and bats in various corners.
Hanging decorations – usually cost around a pound a piece from £1 stores in your local high street. Partypieces.co.uk have scene setters, door props, bunting and garlands, balloons, inflatables and much, much more.
Games –
A party isn't a party without games! Here's a few ideas guaranteed to get everyone in the office smiling.
Apple bobbing – Grab a bucket and fill it with cold water. Then fill it with a hand full of apples and get your colleagues to pick them up with their mouths.  (remembering to tell them to keep their hands behind their backs)
Pinata – Pinatas come in all sorts of shapes and sizes, like the great pumpkin design from Partypieces. Simply grab a smooth wooden stick (like a cricket stump) and let everyone have a go at breaking it.
Treasure hunt – Hide sweets and treats around the office and let everyone go hunting. Don't hide them near computers and electricals though – you don't want any accidents.
Pin the wart on the witch – i.e. pin the tail on the donkey, but Halloween style! If you can draw – cool! If not, then get someone creative to help you out.
Musical chairs – Choose a Halloween playlist then grab a load of office chairs and stick them in the middle of the room. Hand out some sweets and treats for the winner!
Pumpkin Carving –  This should be done in the lead up to the actual party – so that they can be put on display on the day! The more creative the better. (again you can hold a competition for the best and reveal the winner on the day).