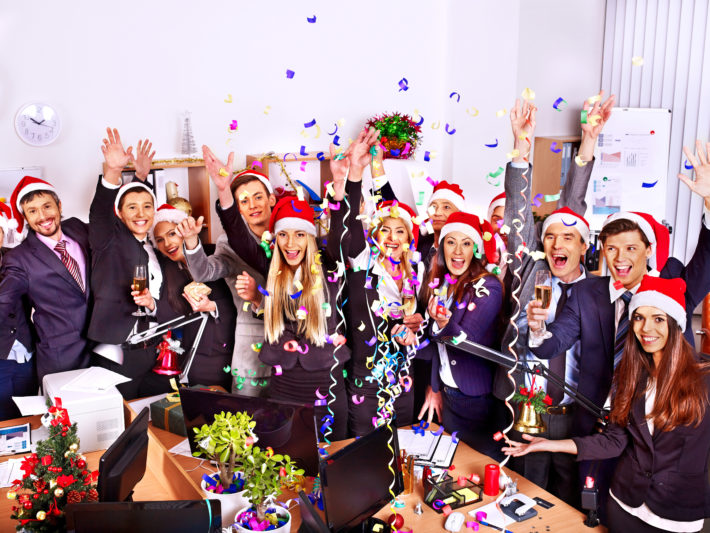 The days of the Christmas office party being held in the actual office after a full day's work, which saw your boss getting drunk and your colleagues photocopying their bottoms, seems to be well and truly over. The traditional office Christmas party has now evolved so much that there is competition between companies as to which can give their staff the most elaborate and expensive night and leave their employees talking about it for months afterwards.
Firstly, hiring a specific function room for a private party is becoming increasingly popular. With the freedom to decorate it how you want and put on whatever entertainment you like without worrying about other companies in the same room, the private function is an ideal place for an intimate company Christmas bash. You can either save a bit of money by paying for the hiring of the room and catering only, whilst decorating it out of petty cash, or you can go the whole hog and hire a party planner to take the stress out of the day.
A hotel may be an ideal setting for a Christmas party such as this; in fact, some organisations take the opportunity to combine the annual festivities with a bit of business by holding their annual conference first, which is compulsory for all staff. This results in a captive audience that has no choice but to attend, with the 'reward' of a party afterwards – whether you want to go or not! Alternatively, and number two on our list, is getting involved in a party package with other companies. Hotels offer these shared party packages, which are particularly popular with small companies that want the party atmosphere but could not create it on their own.
Often competitively priced, this option tends to include a three-course meal, Christmas decorations and a disco for you to dance the night away; alternatively, if you are looking for something different, some companies are now using the festivities as a time to treat their staff for a job well done by putting on weekend activities away from the office. These events include lots of team building and motivational exercises, rounding off the time away with a huge Christmas party. Coming in at number three in the top five Christmas office party ideas, it is becoming clear that the actual office does not feature in the party ideas anymore!
The last two ideas on our list feature the more expensive alternatives to Christmas office parties. If you have the funds, why not hire a well-known venue and give your guests a bespoke party that can't be found anywhere else? If you have a good look around, you will find that hotels and restaurants are not your only choice of venue; for example, museums, nightclubs and manor houses also offer Christmas packages tailored to your needs and requirements.
Finally, why not go completely all out and take your staff to an event or a show, such as the circus, pantomime or even the zoo? Your company would definitely win the originality award and this would give your staff something to talk about for months to come! No matter where you choose to hold the office Christmas party, why not give it a theme and get your staff to dress up? The most popular themes include the casino, winter wonderland, circus and the wild west.